Professional House Washing Company
Think of how often you clean the interior of your home, it's probably a lot, and it's not even exposed to our Northeast Ohio's various seasons, and sometimes extreme weather conditions. Families are busy with far more enjoyable activities than scrubbing down the exterior walls of their homes or risking their safety by climbing on a ladder to bring that shine back to dull gutters and roofs. Your Cleveland area home should look its best inside and out.

Allow the certified house washing professionals at PressureWays Power Cleaning take care of your home's exterior cleaning. We offer a premium service for safely cleaning your home's sides, porch, soffits, exterior gutters, and trim, with low-pressure, removing organic algae, mold, mildew, and cobwebs. Rejuvenate your home's curb appeal to make your home the envy of the neighborhood. Our multi-step process includes pre-inspection and property protection to make sure items prone to water damage have been protected and necessary landscaping has been treated with Plant Wash Protection.
We're committed to providing a 5 Star experience and our satisfaction guarantee ensures our services are carried out with the maximum amount of integrity, professionalism, and quality. Turn to us for your Cleveland home's power washing needs.

Why is soft washing a safer and more effective exterior cleaning solution?
Soft washing utilizes biodegradable cleaning detergents gently applied to the home's exterior surfaces that loosen organic algae, mold, mildew, and cobwebs. Debris is then rinsed away with high volume low pressure leaving your home's exterior surfaces clean and damage-free. High pressure should not be used to clean the exterior of a home as it can damage the home's siding, leave unsightly markings, and disturb oxidation.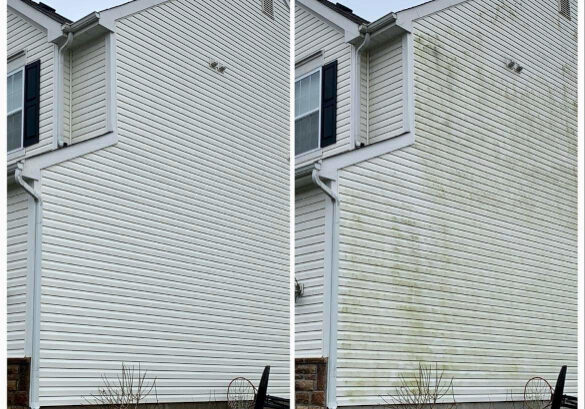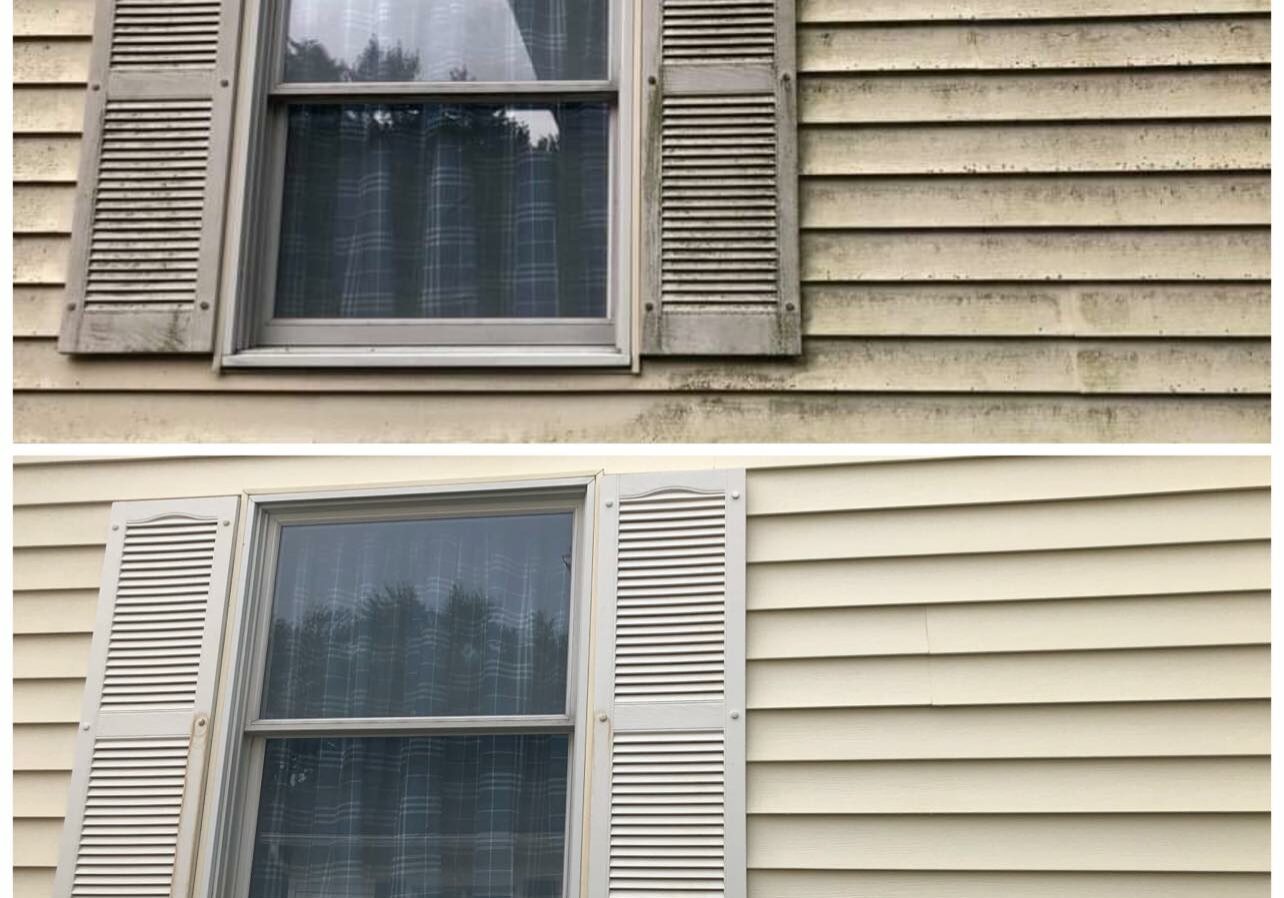 Siding & Shutter Oxidation Removal
Homes that are not cleaned on a regular basis will likely start to form a white chalky film that covers the siding and can come off by touching or rubbing up against the home. This white film is called oxidation. Once disturbed oxidation can leave streaks or unsightly lines on the siding. Let PressureWays restore your siding with our soft wash technique and special detergents designed to remove oxidation. Our certified pros will remove the oxidation from shutters and siding and make your home look new again.
Why Choose PressureWays Power Cleaning?
Property Protection
As the property owner, you want to make sure the Cleveland power cleaning company you hire has all of the proper insurance and coverage. In addition to carrying multiple insurance policies, PressureWays will also inspect the property and the area to be cleaned prior to starting the service. Extra protections are made for items prone to water damage.
Premium Services
Our state-of-the-art, top-of-the-line equipment allows us to clean your property better and faster than traditional pressure washing equipment. Our high-pressure systems are calibrated to quickly and safely remove organic growth and stains while our precise metering systems allow for on-the-fly mixing of specific detergent rations to effectively complete our low-pressure soft wash services.
100% Satisfaction
Your satisfaction is our priority. When you hire us to complete a service for you we are thankful and honored to have earned your trust. We plan to treat you and your property with the utmost respect and care. Although we'd love to be able to remove every stain on a property, at times it may not be possible. Stains that have had time to settle in are often unable to be completely removed but are typically lightened significantly with our methods. We always communicate prior to starting a service realistic expectations for extremely difficult non-organic stains. We love wowing our customers when we face a challenge.